British Made Tailored Covers
Car covers designed to protect and preserve your vehicle inside and out
Towing protection for your caravan
Fully tailored towing covers to protect the front of your caravan during transit.
Car Covers
From £199
Protect your vehicle. Whether it's stored inside or out, your car is safer with a customised car cover. Bespoke and distinctive designs guarantee a perfect fit and our unique material formulations guarantee the highest quality protection each and every time.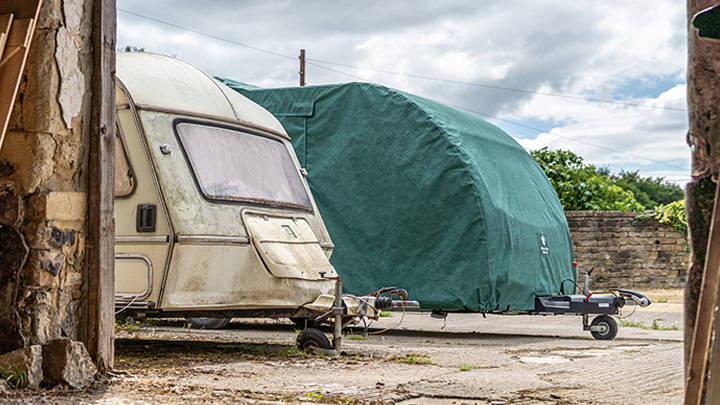 Caravan Covers
From £399
Protect your caravan when it's in storage, or simply when you're not out and about in it, with one of our tailored covers.
As official suppliers to the Swift Group, Coachman, Lunar, Elddis and Bailey, we're the only caravan protection brand to be recommended by the industry's market leading caravan manufacturers. All our covers are waterproof, fully breathable and made to measure your make and model of caravan.
Bike Covers
From £99
Our motorbike covers offer a host of benefits. Bespoke designs guarantee a superior fit and unique material formulations offer the highest quality and protection.
Designed and manufactured in our Yorkshire factory, our bike covers are made to measure, protecting your ride from the elements if you keep it on the drive, or accidental damage and general wear if stored in a garage.
Accessories
From £20
Whether you're looking for protection for your mountain bike, A-frame covers or a boot bag to keep your car or hallway clear of mud, we design and manufacture a range of covers and accessories.
We have a standard range of covers online but tailored options are also available, simply contact our team who can supply a tailored quote to fulfil you specific protection needs.
Bespoke Covers
From products designed to protect new vehicles during the production process, to driving covers and showroom reveal covers, Specialised Covers considers the complete journey that a vehicle goes through, and so all our products are tailored to your requirements.
We can also produce covers from 3D Models allow us to work very closely to the finished vehicles but not requiring the design team to physicaly visit the site. This allows us to speed up the sampling process and create accuarte covers the first time.
Call our team to discuss on 01943 864646
Exceptional Service
Good quality and value for money

I am very pleased with the cover. It fits our caravan perfectly. It is good quality and worth the money spent.

Excellent service

Excellent service, from the online order which was simple , until delivery. The quality and fit of the caravan cover is excellent. I was quite surprised by how heavy the cover is but that's obviously done to the size.

Quality of cover

The caravan cover has been in use for 2 months and has protected the caravan very well. The cover fitted with no issues at all

nice new Blue cover

We ordered a cover for our new bailey two berth caravan & after a lot of research we decided on this one, I ordered a blue front and roof and grey sides along with blue wheel covers, but they rang us to say they were out of stock on grey and we would not receive the cover before Christmas so we went for a full blue cover, so after being delayed they gave us the wheel covers which was great. The cover then arrived fairly quickly on a good weather day so off we went to wash the caravan and fit the cover. we followed the instructions to start at the front and pull over with the poles provided, mind you its a tall caravan and the poles needed to be extended quite a lot so were bending.My wife and I struggled as the cover is heavy and trying to pull over the Arial was near impossible, so I ended up on steps at the side and dragged the cover over by hand to the back of the van not good after a back operation!!, my wife then said this will never fit its too tight, but it actually fitted like a glove so once tethered down its great. I hope its easier to remove and the poles don't bend, I do think it is a excellent quality some caravans at the side of ours have the flapping covers, but not ours. The how to put the cover video looks easy but the van is on flat tarmac, with no aerial and two men so just be aware its not that easy. Great customer service with a great product, I would recommend to anyone who needs to look after their caravan Just been to un cover my caravan after winter and its just as clean as the day I washed it and covered it with my new cover, great cover.

Very informative and very nice to deal …

Very informative and very nice to deal with

Very pleased with purchase.

Great experience and regular updates on where my item was on the production line. Fitted my cover today,was a bit tricky to pull over caravan but once done was easy to secure. Very impressed with quality and how well the cover fits. Would advise when buying a full cover to buy a 2 tone colour so as you can identify roof and sides which help when fitting. Really pleased with product.

specialised covers

from start to finish I can't rate Gavin and the team highly enough

great towing cover- quality product, well worth the money

Ordered a tailored towing cover for van. It arrived about six weeks later. The only reason I am giving 4 stars, instead of 5, is because it does not state on the website that there is a lengthy wait for your cover. I can understand this as products are bespoke, but would have like to have been forwarned about this. However, that minor niggle aside, the cover is really easy to fit and does fit really well and stays in position, during towing. We think it is well worth the money and highly recommend these towng covers. I love the clear windows for the running lights, the manufacturing quality and materials are very good and looks stylish. With hindsight, I would have ordered a cover that allowed you to access the front locker- maybe on our next van!

good quality cover

Very good prestige car cover for my Jaguar XKR convertable & very good service. THANK YOU.

A great product from a company that keeps it's promises.

Very pleased with how easily the cover fitted my caravan and delivery timetable exceeded.

Good service

Good service, Up front about delivery times, plus we needed to delay delivery due to holiday and they were very accomodating.

Best cover on the market

Best cover on the market. Expensive but great quality. It fits on my Boxster S like a glove. The 4 straps which hold the cover securely give peace of mind that the cover will not move in high winds. Perfect product.

Specialist covers go above and beyond…

Specialist covers go above and beyond with their customer service from the time you place your order until you receive your cover, as for the cover itself it is best quality I've ever seen, the fit is absolutely perfect with the top level of protection for my van. No other cover I've seen matches the quality of these covers

Very good company

Very good company, good communication, excellent delivery service.

would recommend this company to any one AAA

Very pleased with my products. Good communication would definitely recommend to a friend Thankyou

We ordered a Tow Pro Elite and are well impressed…

We ordered a Tow Pro Elite and are well impressed. We got excellent customer service prior to ordering with a good knowledge of what spec of cover would fit our new caravan, which was not a listed model. There was a slight delay with them receiving materials but we were notified of the delay and given a choice of sticking with our original choice or selecting an alternative. We waitied for the correct material to arrive with them and once we received the cover it fit perfectly. Well worth the money spent and I would not hestiate to recommend to everybody what a fantastic service we recevied. Thank you very much indeed.