British Made Tailored Covers
Car covers designed to protect and preserve your vehicle inside and out
Towing protection for your caravan
Fully tailored towing covers to protect the front of your caravan during transit.
Car Covers
From £199
Protect your vehicle. Whether it's stored inside or out, your car is safer with a customised car cover. Bespoke and distinctive designs guarantee a perfect fit and our unique material formulations guarantee the highest quality protection each and every time.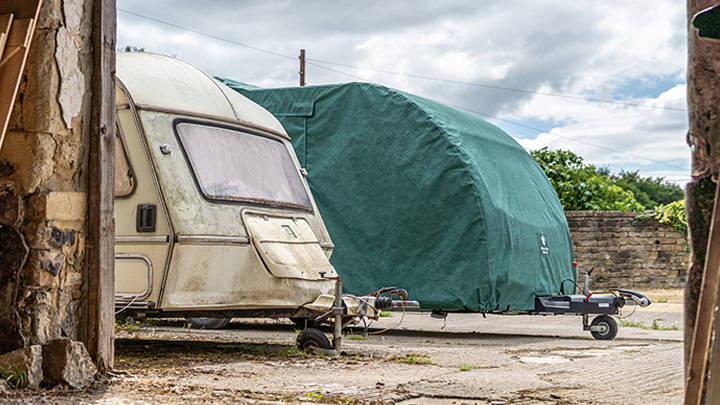 Caravan Covers
From £399
Protect your caravan when it's in storage, or simply when you're not out and about in it, with one of our tailored covers.
As official suppliers to the Swift Group, Coachman, Lunar, Elddis and Bailey, we're the only caravan protection brand to be recommended by the industry's market leading caravan manufacturers. All our covers are waterproof, fully breathable and made to measure your make and model of caravan.
Bike Covers
From £99
Our motorbike covers offer a host of benefits. Bespoke designs guarantee a superior fit and unique material formulations offer the highest quality and protection.
Designed and manufactured in our Yorkshire factory, our bike covers are made to measure, protecting your ride from the elements if you keep it on the drive, or accidental damage and general wear if stored in a garage.
Accessories
From £20
Whether you're looking for protection for your mountain bike, A-frame covers or a boot bag to keep your car or hallway clear of mud, we design and manufacture a range of covers and accessories.
We have a standard range of covers online but tailored options are also available, simply contact our team who can supply a tailored quote to fulfil you specific protection needs.
Bespoke Covers
From products designed to protect new vehicles during the production process, to driving covers and showroom reveal covers, Specialised Covers considers the complete journey that a vehicle goes through, and so all our products are tailored to your requirements.
We can also produce covers from 3D Models allow us to work very closely to the finished vehicles but not requiring the design team to physically visit the site. This allows us to speed up the sampling process and create accurate covers the first time.
Call our team to discuss on 01943 864646
Exceptional Service
Car cover for a car enthusiast

I was looking for an indoor cover for my cherished car and was having difficulty in finding a company that made something suitable. I found Specialised Covers online. They had my vehicle listed on their vehicle-search, so maybe I was in luck! After looking at their products and available options, it was clear that they could help. I was able to spec the cover in various materials and colours and it was even possible to have the Marque's logos applied to the cover in whatever size, location and font design of my choosing. The sales team were very helpful and I placed the order. The turnaround time was quoted at approximately 4 weeks. There was a further delay but I put that down to them being particularly busy at this time of year. The cover finally arrived and I was very impressed. I opted for the Prestige+ cover, with a fleece inside and microfibre outer skin. The cover fits perfectly and I didn't have to worry about the cover accommodating the various pieces of carbon fibre around my car as there is plenty of "give" in the cover. Very happy with the cover and Specialised Covers themselves. Would definitely recommend.

Fits like a glove

Our cover, a Tow Pro Elite, was ordered in advance to be with us when we took delivery of our new caravan. It arrived as promised prior to our collection day. By following the fitting instructions I had no problem fitting the cover on my own. An excellent product, well made and I look forward to many years of protected travel.

We are delighted with our cover

We are delighted with our cover. There was an initial problem with some stitching, however Specialised Covers recalled the product and carried out all necessary works. Their customer service was excellent throughout.

The product is excellent quality

The product is excellent quality . We had a problem with the Goods Out process in that the cover arrived with zero paperwork and also incomplete straps . I chased for these to be sent twice and only after a manager intervened was the shipment completed on the third attempt . . The company did apologise and credited me £25 for my trouble .

excellent service will recommend to my…

excellent service will recommend to my friends

Excellent fit and quality.

Excellent fit and quality.

It has quality written all over it

Pity really - I wanted it plain! Seriously though - a very well made cover. To be highly recommended.

Cover for a Coachman Arcadia…

This cover is for a Coachman Arcadia caravan. The cover comes with 2 poles to help slide the cover over the caravan. Unfortunately there was an issue with how the pole pockets in the cover were sown and the cover had to go back for rectification. The problem was sorted in a couple of weeks. The cover is now in place and fits perfectly. The material appears strong if a little stiffer than we were expecting. Plenty of straps are provided to hold the cover in place even in the strong winds we have had recently. Other strips are provided to prevent the cover snagging on the awning rails, not needed for our caravan but could be useful for others. One extra we asked for was a vent for the fridge so we could use this even with the cover on. We use the fridge throughout the year as extra storage which saves going to the shops too often. This was provided exactly in the correct place and at a reasonable price. It would have been useful to have extra Velcro strips to hold the door cover in place when open, we have purchased some self adhesive Velcro for this purpose. Not the cheapest cover on the market but well worth the expenditure.

Product arrived on time, was well packag …

Product arrived on time, was well packaged and the cover is one of really good quality.

Excellent service

Excellent service, from the online order which was simple , until delivery. The quality and fit of the caravan cover is excellent. I was quite surprised by how heavy the cover is but that's obviously done to the size.

Excellent service was kept informed all…

Excellent service was kept informed all the way through to delivery, when my order was acknowledged, in sewing, in quality control even day / time of delivery .Wil definitely recommend.

Quality materials and professional …

Quality materials and professional construction throughout the product. I have no issues in recommending this company to anybody looking to protect their caravan from damage, dirt or damage from the elements

Caravan transit cover

The cover is well made and very easy to fit. There are a few small issues. One is the cover tends to slide down due to the tension of the elastic straps. I think the cover could be a little higher so it lapped onto the panel above the windows. Also it is not possible to tension the top as the plastic tension clips do not sit flat and therefore allow the strap to slide out. This could be why it slides down. Otherwise a very good cover.

Worth paying a little more for a tailored product.

Beautifully made product that fits like a glove. No excess of straps and the lights remain visible. Once you have attached it a couple of times and remembered to take your towing mirrors out of the storage cubicle first, it becomes second nature. Nice product.

Faultless cover..... Faultless service!

Why cover a 63 year old Landrover, I hear you say? Well he's not just any 63 year old Landrover ..... He's Sidney! And he deserves the best, after trips to Norway in the 50's & 60's, too many other encounters to recall here and now semi retirement to a farm here in Pembrokeshire, he has earned a little bit of pampering! The choice of a Prestige Lite cover, a figure hugging little number in green with silver piping, is perfect, and his bum does not look to big in it, I assure you! Well done to Specialises Covers for every shape detail being spot on, even being aware that these very early Landrovers came in three wheelbase lengths, the company held patterns for all three versions , ...... No fooling you Specialised Covers!

Fits like a glove

We are extremely pleased with our purchase it fits like a glove.