British Made Tailored Covers
Car covers designed to protect and preserve your vehicle inside and out
Towing protection for your caravan
Fully tailored towing covers to protect the front of your caravan during transit.
Car Covers
From £199
Protect your vehicle. Whether it's stored inside or out, your car is safer with a customised car cover. Bespoke and distinctive designs guarantee a perfect fit and our unique material formulations guarantee the highest quality protection each and every time.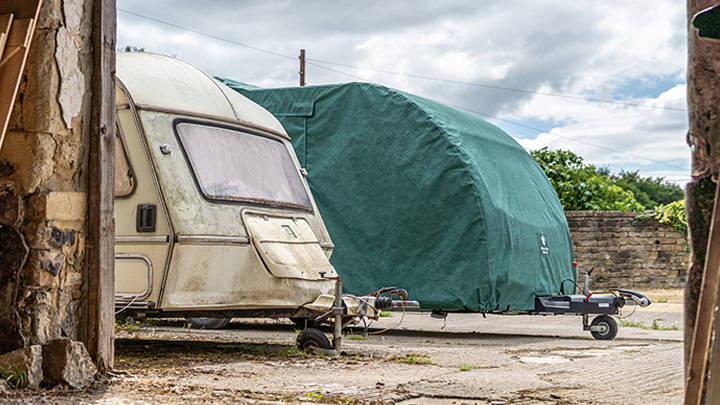 Caravan Covers
From £399
Protect your caravan when it's in storage, or simply when you're not out and about in it, with one of our tailored covers.
As official suppliers to the Swift Group, Coachman, Lunar, Elddis and Bailey, we're the only caravan protection brand to be recommended by the industry's market leading caravan manufacturers. All our covers are waterproof, fully breathable and made to measure your make and model of caravan.
Bike Covers
From £99
Our motorbike covers offer a host of benefits. Bespoke designs guarantee a superior fit and unique material formulations offer the highest quality and protection.
Designed and manufactured in our Yorkshire factory, our bike covers are made to measure, protecting your ride from the elements if you keep it on the drive, or accidental damage and general wear if stored in a garage.
Accessories
From £20
Whether you're looking for protection for your mountain bike, A-frame covers or a boot bag to keep your car or hallway clear of mud, we design and manufacture a range of covers and accessories.
We have a standard range of covers online but tailored options are also available, simply contact our team who can supply a tailored quote to fulfil you specific protection needs.
Bespoke Covers
From products designed to protect new vehicles during the production process, to driving covers and showroom reveal covers, Specialised Covers considers the complete journey that a vehicle goes through, and so all our products are tailored to your requirements.
We can also produce covers from 3D Models allow us to work very closely to the finished vehicles but not requiring the design team to physically visit the site. This allows us to speed up the sampling process and create accurate covers the first time.
Call our team to discuss on 01943 864646
Exceptional Service
Great product and service

Great product and service , highly recommend ed

Porsche 912 cover

Excellent product , my third purchase from this company. They even managed a very late change ( wing mirror position) and delivered before Christmas as it was a present. I very highly recommend

Great Product

Great product; does what it says. Great understanding service. Ability to design and make bespoke covers. Love the new silver colour. 2nd cover I have ordered and quality has been superb.

Kip kompakt cover

Caravan cover is now 4 years old. Has been outside in the elements covering our caravan for this amount of time. Cover is still in as new condition! A real top quality made cover.

Foam in seams.

The grey foam inbetween the seams is all coming out.Is this natural?It all sticks to the inside of the cover,and it is not easy getting it off.I have only used it twice and on my last trip I had a lot of water ingrease on the inside of the cover.It was soaked and it took me a week to get it dried out.Are these problems natural? Thank you. Yours G.K/Bolsover Specialised Covers have been in touch with me regarding my problem,and I am very happy with the outcome.I had a nice phone call from a young lady named Jessica who put me in the picture and explained what the problem was.It is a first class cover,I was just unfortunate to have a issue with the one I had.

very good

very good service and a great product would recommend to other people

Ordering a bike cover

They couldn't supply me with the exact cover I needed, were very helpful and refunded my money straight away. Daniella was very helpful and I would certainly use them again.

The caravan winter cover and towing cover

The caravan winter cover fits like a glove. The towing cover could do with being a couple of inches higher.

Great fit and quality would use …

Great fit and quality would use again... love our towing cover keeps van safe whilst towing and nice and clean van when we arrive. Love how light weight it is also Big Thumbs up from us.

Very customer focussed and a great product

My first purchase from Specialised covers was 30 years ago. The second was last month. They've certainly moved on a lot but the craftsmanship is still the same. A really excellent product and the customer service is superb. I am sure they deal with many customers each day yet, in my conversations with them I felt like I was the only one. Very pleased to recommend them.

High quality product recommended by …

High quality product recommended by other people who have purchased similar. Does need 2 people to put on.

The record speaks for itself!

Specialised Covers has provided me with quality caravan covers for 3 successive vans during the last 10 years. Their service was faultless - as was the fit and quality of the covers supplied. In the future, there may well be a 4th purchase!

What had two sea kayak covers made to order. They are perfect and delivered in good time. The team at Specialised Covers were very helpful and accepted the job on first contact. I can not recommend hi

The team at Specialised Covers took to the task with total confidence. The talked us through our options and then made and delivered two high quality covers to our mutually agreed specifications. I could not be happier. Very many thanks

received a step by step update of where …

received a step by step update of where my cover was in the manufacturing process & very happy with the end result - fitted perfectly and the quality was very good.

Fantastic quality product and awesome service

Ordered a cover for my classic car from specialised covers and I'm over the moon with it. The quality of the cover is brilliant and once it was about to be dispatched they phoned and emailed to let me know it was on its way. Once slight reservation is the time taken to make the cover (about 6 weeks) but the quality and fit made it worth the wait.

BMW GS1250 Adventure Cover

A well made cover. Fits perfectly and looks good.