British Made Tailored Covers
Car covers designed to protect and preserve your vehicle inside and out
Towing protection for your caravan
Fully tailored towing covers to protect the front of your caravan during transit.
Car Covers
From £199
Protect your vehicle. Whether it's stored inside or out, your car is safer with a customised car cover. Bespoke and distinctive designs guarantee a perfect fit and our unique material formulations guarantee the highest quality protection each and every time.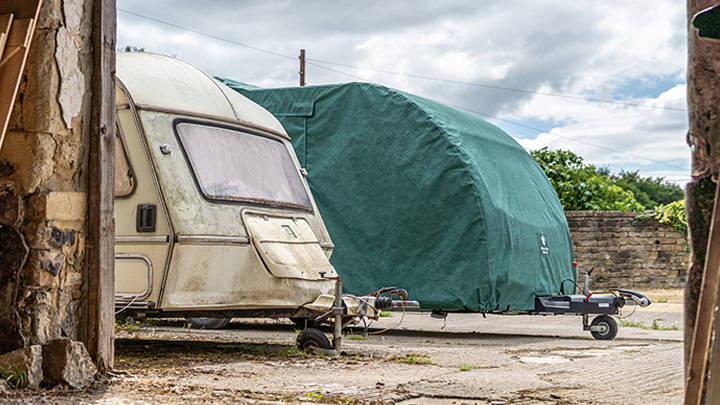 Caravan Covers
From £399
Protect your caravan when it's in storage, or simply when you're not out and about in it, with one of our tailored covers.
As official suppliers to the Swift Group, Coachman, Lunar, Elddis and Bailey, we're the only caravan protection brand to be recommended by the industry's market leading caravan manufacturers. All our covers are waterproof, fully breathable and made to measure your make and model of caravan.
Bike Covers
From £99
Our motorbike covers offer a host of benefits. Bespoke designs guarantee a superior fit and unique material formulations offer the highest quality and protection.
Designed and manufactured in our Yorkshire factory, our bike covers are made to measure, protecting your ride from the elements if you keep it on the drive, or accidental damage and general wear if stored in a garage.
Accessories
From £20
Whether you're looking for protection for your mountain bike, A-frame covers or a boot bag to keep your car or hallway clear of mud, we design and manufacture a range of covers and accessories.
We have a standard range of covers online but tailored options are also available, simply contact our team who can supply a tailored quote to fulfil you specific protection needs.
Bespoke Covers
From products designed to protect new vehicles during the production process, to driving covers and showroom reveal covers, Specialised Covers considers the complete journey that a vehicle goes through, and so all our products are tailored to your requirements.
We can also produce covers from 3D Models allow us to work very closely to the finished vehicles but not requiring the design team to physicaly visit the site. This allows us to speed up the sampling process and create accuarte covers the first time.
Call our team to discuss on 01943 864646
Exceptional Service
Repair to towing cover

Service to repair towing cover was very good. Disappointed that the elastic acted sides were coming away from the cover as it had been lightly used and only 3 years old. I notice on the net that other users have had this fault. Maybe a manufacturing issue. The 50.00 charge to repair was reasonable.

Absolutely perfect!

Cover was delivered as estimated by the company exactly four weeks after order. First dry day was put on caravan and is a perfect fit for our model. It will be great not to have to reclean the van at the end of winter in our very wet part of the country, where the green mould flourishes, just remove co er , polish up again Nd go. Thank you to Specialised Covers for an excellent job

Good quality material used

Good quality material used, Snug fitting No flapping in wind.. Great ideal to un zip out for front locker access. and over night stops , no need to take cover off, Just pull both zips down ether side and you have a clear view out the front windows Any muddy marks ,just let dry and used clean water with a soft brush to clean. Not the cheapest but the BEST never is !! Money well spent.

quality product from quality company

you can be sure and put your trust in this company,very knowledgeable and tryed and tested!!!!!!

Great product.

Great product. Shipped to Iceland fast and without any complications.

Caravan Cover

Fits our new Luna Stellar caravan like a glove. Very impressed with the fabric and quality of the cover. It also has plenty of straps to hold it down in windy weather. The flap for the caravan door is in exactly the right place. The cover also comes with a decent storage bag and a separate hitch lock cover. Very pleased. Rich, East Yorkshire.

Brilliant product

Brilliant product. Much easier to use than we even hoped. Great quality.

Well worth the money

Fantastic - perfect fit and so easy to put on caravan. Would certainly recommend this cover the anyone.

Having bought several items in the past…

Having bought several items in the past ( and being very pleased with all) we were looking forward to receiving our latest full cover for our 2020 Swift Challenger 850 x. However upon arrival and fitting the cover was several inches to short in length, we contacted Specialised Covers and they did offer to replace the cover saying "this was the first cut for this pattern" and we understood you get teething issues with all new things. As winter was near and we wanted to cover the new van we and the company came to a mutual agreement. All in all a superb product and great after sales service. Foot note, if we had the same thing happen again we would take the option to have it replaced !

Your service and the quality and fit of…

Your service and the quality and fit of my cover, all excellent thank you.

Great product and bespoke service.

Nothing was too much trouble. My car had a few unusual external features but they took every care to produce the perfect tailored fit.

Very happy with the product and the…

Very happy with the product and the service and the information I received as our cover was being made had a couple of queries and they emailed back straight awY so all round very happy

You came along and took measurements

You came along and took measurements. We were delighted to find that the cover fit like a glove following the contours of our unit. An excellent job. Thank you.

resolved minor issue

There was a small production problem with the full caravan cover but on contacting specialised covers they were already onto it and resolved the issue quickly. cover is of good quality and appears well made. Having watched the fitting video I expected my efforts to take a lot longer. I have just closed the caravan down for winter and put it back into storage so unpacked the cover and with a little help very quickly put the cover on. Took less than 5 minutes and it fits like a glove, confident all will be well when its time to take it off.

Large outdoor lined motorcycle cover;

Large outdoor lined motorcycle cover; Made to order when purchased at Motor Home Show (NEC) Superb quality as always from Specialised Covers. I received a generous discount over full retail price when I placed my order and was kept very well informed of my order progress right up until the delivery date. The cover came supplied with a storage bag for when it's not in use and has fasteners to prevent the cover being displaced by foul weather conditions. My previous cover gave excellent service for almost 15 years so the new one has a lot to live up to; I have no doubt it will not disappoint.

Top Quality Product

Top quality product. Superb communication at all stages. What else is there to say?!"