British Made Tailored Covers
Car covers designed to protect and preserve your vehicle inside and out
Towing protection for your caravan
Fully tailored towing covers to protect the front of your caravan during transit.
Car Covers
From £199
Protect your vehicle. Whether it's stored inside or out, your car is safer with a customised car cover. Bespoke and distinctive designs guarantee a perfect fit and our unique material formulations guarantee the highest quality protection each and every time.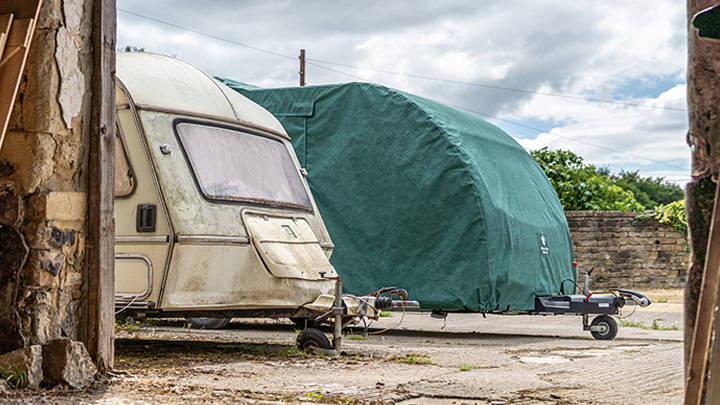 Caravan Covers
From £399
Protect your caravan when it's in storage, or simply when you're not out and about in it, with one of our tailored covers.
As official suppliers to the Swift Group, Coachman, Lunar, Elddis and Bailey, we're the only caravan protection brand to be recommended by the industry's market leading caravan manufacturers. All our covers are waterproof, fully breathable and made to measure your make and model of caravan.
Bike Covers
From £99
Our motorbike covers offer a host of benefits. Bespoke designs guarantee a superior fit and unique material formulations offer the highest quality and protection.
Designed and manufactured in our Yorkshire factory, our bike covers are made to measure, protecting your ride from the elements if you keep it on the drive, or accidental damage and general wear if stored in a garage.
Accessories
From £20
Whether you're looking for protection for your mountain bike, A-frame covers or a boot bag to keep your car or hallway clear of mud, we design and manufacture a range of covers and accessories.
We have a standard range of covers online but tailored options are also available, simply contact our team who can supply a tailored quote to fulfil you specific protection needs.
Bespoke Covers
From products designed to protect new vehicles during the production process, to driving covers and showroom reveal covers, Specialised Covers considers the complete journey that a vehicle goes through, and so all our products are tailored to your requirements.
We can also produce covers from 3D Models allow us to work very closely to the finished vehicles but not requiring the design team to physicaly visit the site. This allows us to speed up the sampling process and create accuarte covers the first time.
Call our team to discuss on 01943 864646
Exceptional Service
Excellent cover and brilliant service - highly recommended to everyone!

This is our second season with the cover for our caravan. It fits like a glove and last winter worked absolutely perfectly. You certainly get what you pay for with this company! We have just put it on for the winter using the new expandable poles which are longer and stronger than the ones that were being supplied last year (2015). There are two reasons for this review. The first is to say how excellent the quality is, with extra straps and all sorts of bits to put in gutters and stop damage to the cover. The cover didn't scratch our 'van even in the high winds of the Yorkshire coast which had been my reservation about getting one (we did wash the 'van before putting the cover on), withstood the horrendous weather that was thrown at it and left our caravan looking great in the spring. Secondly is to say how brilliant the customer service dept is when I spoke to them recently - helpful, friendly, responsive...just brilliant! I almost want a new caravan so that I can buy from them again!

Excellent Service

The online ordering form was easy to navigate and submit. I was kept up to date with each stage of my order. The product is excellent and very easy to fit. I was quite worried about doing that but I shouldn't have been - the poles made it so easy. I did have one slight issue with a mark on the side panel but this was rectified immediately. A great company to deal with.

Stormshield+ covers are the best…

Stormshield+ covers are the best quality, fit, and performing outdoor covers available. Now on my 3rd cover and each has been excellent.

Caravan cover

Nothing was a problem,had'nt booked an appointment felt comfortable as soon as we were met,was told about the product the company and the companies they supply,after placing an order was then shown around the factory was told delivery would be around 4 weeks, 2 weeks later it arrived,as it is a full caravan cover have not tried it on yet but have had it in unpacked and its looks fine

Having made a mistake I explained my…

Having made a mistake I explained my error to specialised covers who then turned to and made me a new cover that fitted perfectly. Everyone I had contact with were patient and courteous in helping me through the process. I have nothing but praise and compliments for a company that puts their customers first.

Great product and fantastic…

Great product and fantastic communication of order progress to point of delivery. Have recommend to a number of other caravan owners who have also purchased. 10 out of 10.

Second caravan front cover I have…

Second caravan front cover I have purchased from Specialised. Very well made. Gives you confidence that your can will not get damaged. Easy to fit even solo. Only bought a new cover because I swapped my van for a new wider model. Would recommend anybody to buy one of your products.

Very pleased with the service,was …excellent

Very pleased with the service,was informed throughout what was happening and when they were calling to measure the caravan, very professional approach in the measurements and took there time, which resulted in the cover being a perfect fit, just lke a glove.

It does what it says on the packet.

Ordered the cover. Received the cover. Kept updated in between. Very good service.

Excellent product and service.

Excellent quality. Pricing competitive. Informed about manufacture every step of the way. Delivery as promised. Very pleased with the whole thing.

Great product

Great product, extremely helpful company.

very good cover to protect it front of the caravan.

I like the cover and it got a light too . Good for driving in night time. I will pass it on to my friends. Thank you.

A fast and efficient service.

I would recommend this company to anyone who was looking for a cover for any item.

Front caravan cover

I would recommend to all my friends with caravans

Alfa car cover

Great cover that fits perfectly and has even survived the resent storms.

Excellent Quality Cover

I'm delighted with my cover - it's the next best thing to a garage! The quality of the breathable material seems excellent and it's really well made. The fit is fantastic - it fits like a glove. It's easy to take on and off with the elasticated front and back. Four straps were supplied for securing the cover but I find that two is generally sufficient to stop the wind getting underneath. With the car parked up for long periods due to never-ending 'lock-downs' it has been a good investment saving time washing off tree debris and bird poop plus giving protection from the sun in the summer. An excellent quality British product which is rare these days, so well done and keep up the good work!