British Made Tailored Covers
Car covers designed to protect and preserve your vehicle inside and out
Towing protection for your caravan
Fully tailored towing covers to protect the front of your caravan during transit.
Car Covers
From £199
Protect your vehicle. Whether it's stored inside or out, your car is safer with a customised car cover. Bespoke and distinctive designs guarantee a perfect fit and our unique material formulations guarantee the highest quality protection each and every time.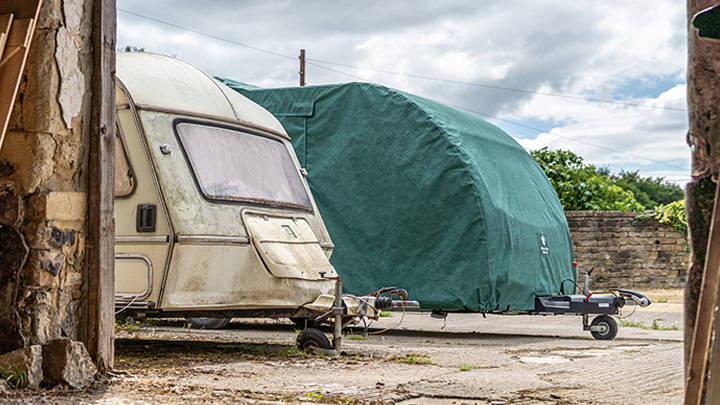 Caravan Covers
From £399
Protect your caravan when it's in storage, or simply when you're not out and about in it, with one of our tailored covers.
As official suppliers to the Swift Group, Coachman, Lunar, Elddis and Bailey, we're the only caravan protection brand to be recommended by the industry's market leading caravan manufacturers. All our covers are waterproof, fully breathable and made to measure your make and model of caravan.
Bike Covers
From £99
Our motorbike covers offer a host of benefits. Bespoke designs guarantee a superior fit and unique material formulations offer the highest quality and protection.
Designed and manufactured in our Yorkshire factory, our bike covers are made to measure, protecting your ride from the elements if you keep it on the drive, or accidental damage and general wear if stored in a garage.
Accessories
From £20
Whether you're looking for protection for your mountain bike, A-frame covers or a boot bag to keep your car or hallway clear of mud, we design and manufacture a range of covers and accessories.
We have a standard range of covers online but tailored options are also available, simply contact our team who can supply a tailored quote to fulfil you specific protection needs.
Bespoke Covers
From products designed to protect new vehicles during the production process, to driving covers and showroom reveal covers, Specialised Covers considers the complete journey that a vehicle goes through, and so all our products are tailored to your requirements.
We can also produce covers from 3D Models allow us to work very closely to the finished vehicles but not requiring the design team to physicaly visit the site. This allows us to speed up the sampling process and create accuarte covers the first time.
Call our team to discuss on 01943 864646
Exceptional Service
I have bought three covers over the …

I have bought three covers over the years for a Porsche, a Mustang GT and a Caravan tow cover. Excellent products and excellent customer service.

fantastic service from start to finish.

fantastic service from start to finish.

A good quality cover easy to fit,

A good quality cover, so easy to fit to the caravan, one person can fit it, this is a much petter cover, Thank you for making a great product,

A quality cover and a lot more!

Despite the promised lead time, our cover arrived early, within about 10 days, which was a bit of a surprise. Specialised kept us informed every step of the way and when the consignment arrived we couldn't believe the additional items that came with the cover. They really think it through and know what us caravan owners need. Its a bit early in the season to know how the cover fits and works over time but I have a feeling we are going to be very pleased with the outcome!

The service was very comprehensive and…

The service was very comprehensive and efficient. The cover fits our motorhome perfectly.. Very satisfied with the service.

Very good quality and fit.

Very good quality and fit. Easy to fit as well.

Great cover and very pleased with it

Great cover and very pleased with it. Couldn't recall though whether I had requested an Aston Martin logo on it

Towing cover purchased at the Caravan show N.E.C.

Have not had the opportunity to try the cover as yet,but first time out will be in two weeks time. The cover looks to be an excellent, well made item.The communication with the company was excellent and was updated regularly at every stage. I am delighted to find a British (Yorkshire) company performing so well and doing exactly as promised. Would highly recommend. Many thanks.

Excellent product and service.

Excellent quality. Pricing competitive. Informed about manufacture every step of the way. Delivery as promised. Very pleased with the whole thing.

It took some time to getting round to…

It took some time to getting round to putting the cover on our caravan. It fits perfectly and looks amazing. Thank you.

we are over the moon with our front cover.

we are over the moon with our front cover it fits like a glove. I will recommend this company to my caravaning friends.

Its all good, happy days, keep caravanning.

Company appears good to deal with, the cover is a good fit, but I would have preferred at least two more straps to go under the van to fasten the cover down. When the wind blows the sides are always flapping, and I believe more straps underneath would have helped stopped that.

specialist car cover

I have purchased several outdoor covers over several years and found them to be of excellent quality at competitive prices! The service that the company offers is excellent---delivery has always been as promised . so i will continue to purchase in the future!

Tow cover

About 1 year ago I purchased a tow cover the service and cover are excellent however I made the mistake of not having gas locker zip do not make this mistake. I am so pleased with the cover that I purchased another cover for a friend for Christmas this time with gas locker zip, again service excellent . I do feel that specialised covers should consider making a cover that only comes up to and not over the windows. Although I can fit my cover on my own I do feel that a below window cover would be easier to fit single handed, and to dry if you tow in the rain, and would still provide 90% protection to the caravan front. In conclusion a thoroughly good product from a refreshingly reliable company (do not forget the gas locker zip) I delt with Alex in particular but all of the saff were excellent.

Great quality

Simple order process, kept up to date on progress, delivered in time and fits like a glove, nice quality and ease of use, and excellent online instructions Next season will inform of durability

Very pleased with our first full…

Very pleased with our first full caravan cover. Although it took two of us a whole hour to get it over the 'van, it is a perfect fit and looks great. Should be quicker next time. Very pleased, too, with the regular updates from Specialised Covers. Our caravan is stored on a farm and close to trees. Earlier this year we were horrified at the state of the roof and hope that the new cover will mean no more green roof in spring. All in all, a 100 percent rating and we are happy to recommend Specialised. Thank you.