British Made Tailored Covers
Car covers designed to protect and preserve your vehicle inside and out
OFFER NOW LIVE
Order your full storage cover before the 1st Sept and receive £50 off
Towing protection for your caravan
Fully tailored towing covers to protect the front of your caravan during transit.
Car Covers
From £199
Protect your vehicle. Whether it's stored inside or out, your car is safer with a customised car cover. Bespoke and distinctive designs guarantee a perfect fit and our unique material formulations guarantee the highest quality protection each and every time.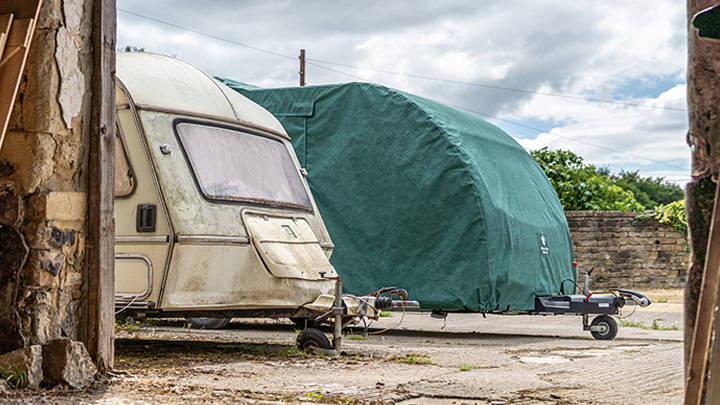 Caravan Covers
From £399
Protect your caravan when it's in storage, or simply when you're not out and about in it, with one of our tailored covers.
As official suppliers to the Swift Group, Coachman, Lunar, Elddis and Bailey, we're the only caravan protection brand to be recommended by the industry's market leading caravan manufacturers. All our covers are waterproof, fully breathable and made to measure your make and model of caravan.
Bike Covers
From £99
Our motorbike covers offer a host of benefits. Bespoke designs guarantee a superior fit and unique material formulations offer the highest quality and protection.
Designed and manufactured in our Yorkshire factory, our bike covers are made to measure, protecting your ride from the elements if you keep it on the drive, or accidental damage and general wear if stored in a garage.
Accessories
From £20
Whether you're looking for protection for your mountain bike, A-frame covers or a boot bag to keep your car or hallway clear of mud, we design and manufacture a range of covers and accessories.
We have a standard range of covers online but tailored options are also available, simply contact our team who can supply a tailored quote to fulfil you specific protection needs.
Bespoke Covers
From products designed to protect new vehicles during the production process, to driving covers and showroom reveal covers, Specialised Covers considers the complete journey that a vehicle goes through, and so all our products are tailored to your requirements.
We can also produce covers from 3D Models allow us to work very closely to the finished vehicles but not requiring the design team to physically visit the site. This allows us to speed up the sampling process and create accurate covers the first time.
Call our team to discuss on 01943 864646
Exceptional Service
Good all round service!!

Very good quality car cover Good fit and long lasting I've bought covers from over companies in the past all claiming to be the BEST But specialised car covers really are Thanks again for another good product

Towing Cover

Ordered towing cover. Product delivered on time and absolutely delighted with quality. Would throughly recommend this company.

Excellent service and product

The service from placing the order to actual delivery was second to none. The Towing cover fits perfect.

Top Quality

I bought a customized cover and when it arrived it exceeded my expectations, the quality was out standing and the fit on the car was perfect, it also looks amazing. Would recommend this company to any one.

Great cover, great service

Kept fully informed of progress - end result was perfect. Good to have a wide choice of colours, so as to be able to capture the mark of car, even when covered.

Tow Pro cover issue

I ordered a Tow Pro cover from Specialised Covers it fit well but after a few uses there was an issue with the stretchy cloth coming away from the stitching, it was returned and the issue sorted, but unfortunately it happened again and the cover was redone for a third time but was a bit tight, so it went back again but this time was referred to their design team and a new cover was made and now fits perfectly with no issues! The service provided throughout the whole experience was excellent and they even supplied me with a loan cover until the issue was sorted out. The whole team I dealt with are credit to the company. I cant recommend them enough, great company to deal with.

Caranvan cover

Second time I have used specialised covers second time they have produced a product that does what it said on the tin, well done.

Having bought and used a Porsche cover…

Having bought and used a Porsche cover it proved vulnerable to high winds, coming loose and bruising the paintwork. My past experience of your cover on my Audi TTS was faultless so I am giving you a go again. So far I have used it just once but I am pleased that it does the job and more. The finished product is well made and fits fairly snugly but could benefit with added security straps which could be located in the boot as with the Porsche version. Overall great value and aesthetically pleasing. Regards and thanks, Tom Ayres

Difficult To fit Bottom Tensioner

It's a pity I could not give 5 stars as the product is well made and easy to fit apart from the bottom tension strap which requires you to climb under the front of the van and both locks disappear out of hands reach.

Faultless cover..... Faultless service!

Why cover a 63 year old Landrover, I hear you say? Well he's not just any 63 year old Landrover ..... He's Sidney! And he deserves the best, after trips to Norway in the 50's & 60's, too many other encounters to recall here and now semi retirement to a farm here in Pembrokeshire, he has earned a little bit of pampering! The choice of a Prestige Lite cover, a figure hugging little number in green with silver piping, is perfect, and his bum does not look to big in it, I assure you! Well done to Specialises Covers for every shape detail being spot on, even being aware that these very early Landrovers came in three wheelbase lengths, the company held patterns for all three versions , ...... No fooling you Specialised Covers!

Purchase coincided with Covid lockdown …

Purchase coincided with Covid lockdown resulting in unavoidable delay - but I was kept very well informed and regularly updated on happenings and progress. Excellent service

Indoor motorcycle cover

Ordered during the lockdown. Cover still arrived sooner than expected. I was kept informed at every stage of the process and I'm extremely happy with my cover. More than happy to recommend these guys.

Great

Great service and fantastic cover very happy customer

So happy we bought this front cover

So happy we bought this front cover Easy to put on Really protect front of caravan Very well made with quality products

Snap on roll cab cover

We were so well pleased with our subaru 22b cover we asked could we have a tool box cover to match. The answer was yes so we sent of measurements and the results were superb,fitted like a glove. THANKS SPECIALISED COVERS.

Excellent quality

Although a long wait for delivery of my caravan cover it was worthwile. Excellent quality and tailored fit when used on my caravan, the material is light and easy to use. No ingress of water found over the winter and the inside of the caravan showed no damp and mildew, an excellent quality purchase.