British Made Tailored Covers
Car covers designed to protect and preserve your vehicle inside and out
Towing protection for your caravan
Fully tailored towing covers to protect the front of your caravan during transit.
Car Covers
From £199
Protect your vehicle. Whether it's stored inside or out, your car is safer with a customised car cover. Bespoke and distinctive designs guarantee a perfect fit and our unique material formulations guarantee the highest quality protection each and every time.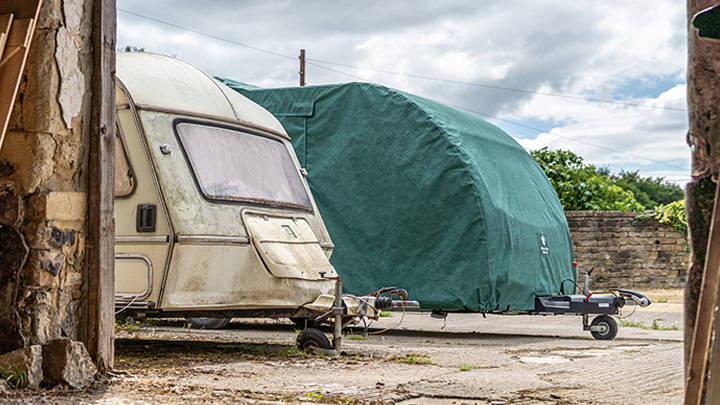 Caravan Covers
From £399
Protect your caravan when it's in storage, or simply when you're not out and about in it, with one of our tailored covers.
As official suppliers to the Swift Group, Coachman, Lunar, Elddis and Bailey, we're the only caravan protection brand to be recommended by the industry's market leading caravan manufacturers. All our covers are waterproof, fully breathable and made to measure your make and model of caravan.
Bike Covers
From £99
Our motorbike covers offer a host of benefits. Bespoke designs guarantee a superior fit and unique material formulations offer the highest quality and protection.
Designed and manufactured in our Yorkshire factory, our bike covers are made to measure, protecting your ride from the elements if you keep it on the drive, or accidental damage and general wear if stored in a garage.
Accessories
From £20
Whether you're looking for protection for your mountain bike, A-frame covers or a boot bag to keep your car or hallway clear of mud, we design and manufacture a range of covers and accessories.
We have a standard range of covers online but tailored options are also available, simply contact our team who can supply a tailored quote to fulfil you specific protection needs.
Bespoke Covers
From products designed to protect new vehicles during the production process, to driving covers and showroom reveal covers, Specialised Covers considers the complete journey that a vehicle goes through, and so all our products are tailored to your requirements.
We can also produce covers from 3D Models allow us to work very closely to the finished vehicles but not requiring the design team to physicaly visit the site. This allows us to speed up the sampling process and create accuarte covers the first time.
Call our team to discuss on 01943 864646
Exceptional Service
Quality product with quality service.

I have had a number tow covers and a storage cover for my caravan . Staff Always pleasant and always kept up to date of my order. I would use no one else.

Porsche 944turbo cab

Brilliant fit, excellent material.Could not fault it at all. Brian Smith

Ordering was simple

Ordering was simple. This despite caravan over 20 years old. Told estimated production time, and kept informed of various stages. Promises held good. Cover arrived on day stated. Fitted like a glove. If it lasts as long as the last one, also supplied by Specialised Covers,, nearly 10 years ago, it will probably "see me out"..

Excellent help

When we was at the caravan show at the nec we went to buy a special cover for our caravan for when we was towing we found the stall we was looking for the help that we got was excellent by the girl that served us she explained everything really well and we was so happy with u we would like to say a big thank u to all the team at the nec and we will use u again in the future

Outstanding

Outstanding. At all times I was kept informed and the finished article is just terrific. I hope you will be ok through this dreadful pandemic. I would and will recommend you every time . Thank you.

The cover arrived on the day specified

The cover arrived on the day specified. It was unpacked and looked very sturdy indeed. It fit on the car a treat without being over tight. I will remove the cover at the beginning of spring and then the test will be if it has kept our little car in good condition without any chaffing of the bodywork.

Quality

This is the second time we have used this company, both for full covers for different caravans, plus a tow cover. Have been impressed both times. The tow cover that we have recently received is very good quality compared to our previous one (supplied elsewhere) it fits perfectly, the full cover does too. In our opinion an excellent company who kept us informed at all times.

Fast and Professional

I ordered a cover for my Aston Martin Virage. A new model this year, and within a few weeks as promised a bespoke fully fitted cover arived. Delighted with the prompt and accurate service and quality of the product.

It keeps the front of your caravan in showroom condition

The first towing cover for our van we bought 3years ago and was a good product but this year we decided to renew it as it was looking a little tired after doing some 10.000 miles or so, but the latest version of the front cover had to be returned as it didn't fit correctly when first we received it, However the team at specialised depatched a new cover promptly but on recept of the cover we have noticed the poor quality of some stitching around the elasticated edges,it's already looking as if it will fail I don't think the quality is as good as the original cover and will be speaking to the team at specialised in the next few days until then we will continue to use our old cover. Disappointedly

Terrific service, great product

Terrific customer experience from first contact all the way through to on time delivery. Lovely product, fitted my Porsche Turbo S perfectly and does the job faultlessly.

Perfect

Great quality and service

communication zero

Very poor communication if you don't ring to chase your order they don't bother emailing to say there's a problem or what at mo four weeks late in delivery and still no update as to when was going to order a full cover but will seriously think of other companies now I have now received the cover and all is good the cover is quality made the above was not about the product but coms I would recommend the cover as it is a quality product.

First Class Customer Service, Excellent Product.

Always treated well by customer services and will use them again.

This is the 2nd cover we have bought

This is the 2nd cover we have had from Specialised Covers and are made exceptionally well, fit perfectly and are long lasting, our last one we had for 4 years and it was still like brand new, got a new caravan so needed a new cover

excellent quality well made fits the…

excellent quality well made fits the caravan superbly and easy to fit.

Looks good fits well very satisfied

Very satisfied when I placed the order I was talked through the options on what would be best for my R8 . My order was delivered in the time scales which they said and it fits and looks really well but I suppose time will tell on the durability as the last cover I ordered from a different company deteriorated within 18 months to 2 years and as the cover I have just purchased has a 12 month warranty on you would think this product would have a longer warranty and this is my only concern .