British Made Tailored Covers
Car covers designed to protect and preserve your vehicle inside and out
Towing protection for your caravan
Fully tailored towing covers to protect the front of your caravan during transit.
Car Covers
From £199
Protect your vehicle. Whether it's stored inside or out, your car is safer with a customised car cover. Bespoke and distinctive designs guarantee a perfect fit and our unique material formulations guarantee the highest quality protection each and every time.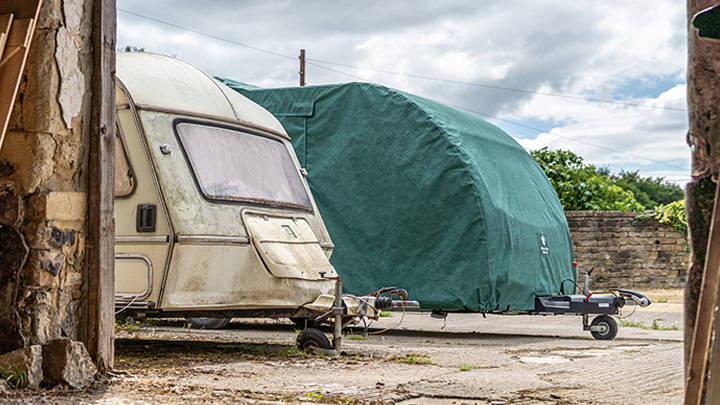 Caravan Covers
From £399
Protect your caravan when it's in storage, or simply when you're not out and about in it, with one of our tailored covers.
As official suppliers to the Swift Group, Coachman, Lunar, Elddis and Bailey, we're the only caravan protection brand to be recommended by the industry's market leading caravan manufacturers. All our covers are waterproof, fully breathable and made to measure your make and model of caravan.
Bike Covers
From £99
Our motorbike covers offer a host of benefits. Bespoke designs guarantee a superior fit and unique material formulations offer the highest quality and protection.
Designed and manufactured in our Yorkshire factory, our bike covers are made to measure, protecting your ride from the elements if you keep it on the drive, or accidental damage and general wear if stored in a garage.
Accessories
From £20
Whether you're looking for protection for your mountain bike, A-frame covers or a boot bag to keep your car or hallway clear of mud, we design and manufacture a range of covers and accessories.
We have a standard range of covers online but tailored options are also available, simply contact our team who can supply a tailored quote to fulfil you specific protection needs.
Bespoke Covers
From products designed to protect new vehicles during the production process, to driving covers and showroom reveal covers, Specialised Covers considers the complete journey that a vehicle goes through, and so all our products are tailored to your requirements.
We can also produce covers from 3D Models allow us to work very closely to the finished vehicles but not requiring the design team to physicaly visit the site. This allows us to speed up the sampling process and create accuarte covers the first time.
Call our team to discuss on 01943 864646
Exceptional Service
Excellent product

This is a very good quality cover that fits like a glove.

Good quality, good price and pleasant people.

I really like the front travel cover it keeps all the summer bugs off the caravan front panel and window so no need to wash off hardened on bugs when I arrive at my destination. I have received my caravan all over winter cover winter cover but I have not used it yet I opened the package and had a quick look . I like the material its made from.

Ordered a cover for our new caravan and …

Ordered a cover for our new caravan and inadvertently thought it was a stock item, it wasn't! After I called and said I needed it sooner than the designated delivery time I was informed they would fast track the cover prior to us taking our first outing! I received good old fashioned British service at its best, the cover arrived on time, it is superbly tailored and compliments the caravan very well, if you want great quality and service this company will deliver! Buy quality buy once!

Good quality

Good quality

great product

great product, took a little time to manufacture but worth the wait

Excellent service and product

We had a lot of back and forth to check my order and make sure that I was happy with delivery dates (I was in a hurry and it was holiday time). The cover fits like a glove - though I'll never get it back in it's bag (how entry do that!). Two layered, with a soft inner layer. I think it should do the job.

at last a company that does what it says

recieved the towing cover today and fitted it to the van. Very easy to put on (5 mins) fits like a glove. We will be out on the road at Easter to show it off

Fantastic products sold by a really helpful and friendly company

I have bought a caravan cover and towing cover and both are excellent quality. They are easy to use and fit my caravan very well. I have no hesitation in recommending this company.

Excellent product fast fitting cover

Excellent product - so quick and easy to use can easily be fitted in 2 minutes - perfect fit for the caravan . Strongly recommend the travel cover to anyone.

Smashing well made front protector for our Elegance

Smashing well made front protector We were kept informed of the manufacturing process The only thing we would have liked was the specialised logo on the centre panel Maybe we should have asked

Great quality and service

Great quality and service. Highly recommended!!

Cover arrived within time stated

Cover arrived within time stated. Satisfied with quality and amazed how easy with the poles to cover caravan.

Outside cover

Whilst only had cover a month or so it is providing the cover that I expected, I have to mention the service from order to delivery was fantastic in the way I was kept informed throughout the manufacturing process and delivered on time , first class device

Excellent product and service

Hi there, Love the covers, I had bought 3 previously and the new covers are thicker and hug the cars better, lovely. Although the delivery was messed up by the courier company the lady on the phone in the Specialised Covers office was most helpful and sorted everything out by calling the courier on my behalf, top marks. One disappointment was the BMW Logo on the cover - this is a bit naff I am afraid. It is too small, too shiny and the larger coloured material one I had on the cover you supplied for my E28 5 series BMW some years ago is much better. I will be ordering a cover for my SAAB 900SE Turbo 1994 race car in the future but I will discuss the logo in advance.

A company that delivers everything it promises

A very easy and helpful company to deal with. Simple order process excellent sales staff, delivered on time and a perfect fit. Could not wish for more.

Not been able to use the cover due to…

Not been able to use the cover due to covid but the cover looks great though a fair bit heavier than expected . Previous model model i had issues with the zipper getting caught and damaged in the locked door. this model appears as though will be much easier to keep clean.