British Made Tailored Covers
Car covers designed to protect and preserve your vehicle inside and out
Towing protection for your caravan
Fully tailored towing covers to protect the front of your caravan during transit.
Car Covers
From £199
Protect your vehicle. Whether it's stored inside or out, your car is safer with a customised car cover. Bespoke and distinctive designs guarantee a perfect fit and our unique material formulations guarantee the highest quality protection each and every time.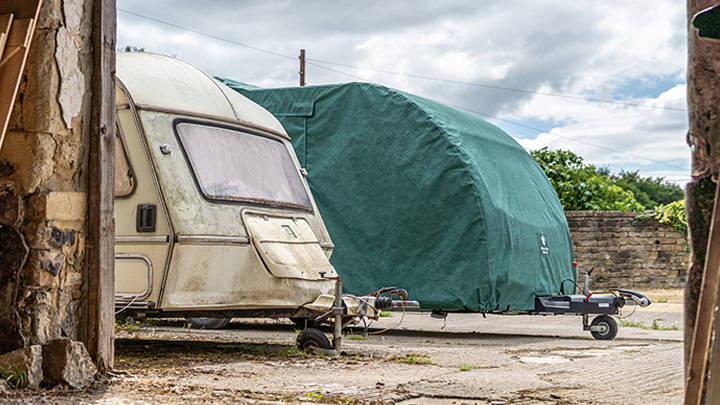 Caravan Covers
From £399
Protect your caravan when it's in storage, or simply when you're not out and about in it, with one of our tailored covers.
As official suppliers to the Swift Group, Coachman, Lunar, Elddis and Bailey, we're the only caravan protection brand to be recommended by the industry's market leading caravan manufacturers. All our covers are waterproof, fully breathable and made to measure your make and model of caravan.
Bike Covers
From £99
Our motorbike covers offer a host of benefits. Bespoke designs guarantee a superior fit and unique material formulations offer the highest quality and protection.
Designed and manufactured in our Yorkshire factory, our bike covers are made to measure, protecting your ride from the elements if you keep it on the drive, or accidental damage and general wear if stored in a garage.
Accessories
From £20
Whether you're looking for protection for your mountain bike, A-frame covers or a boot bag to keep your car or hallway clear of mud, we design and manufacture a range of covers and accessories.
We have a standard range of covers online but tailored options are also available, simply contact our team who can supply a tailored quote to fulfil you specific protection needs.
Bespoke Covers
From products designed to protect new vehicles during the production process, to driving covers and showroom reveal covers, Specialised Covers considers the complete journey that a vehicle goes through, and so all our products are tailored to your requirements.
We can also produce covers from 3D Models allow us to work very closely to the finished vehicles but not requiring the design team to physically visit the site. This allows us to speed up the sampling process and create accurate covers the first time.
Call our team to discuss on 01943 864646
Exceptional Service
Excellent product

Excellent product at a fair price, great fit but takes a month from placing order to delivery, although it is made to measure.

Lotus Carlton

Excellent product. Very pleased.

Fits like a glove

Two motorcycle covers made to measure and fitting like a glove. They look a treat and my bikes have stopped collecting dust and damp. Well done on a great product!

Tow pro towing cover

Really pleased with the towing cover, easy to fit and now it has been used proven good value, clean van on arrival. Really good investment.

simply the best

a superbly made and easy fit cover, really really pleased with fit and quality every little detail perfect. Would recommend to every one

Fits the van nice looks good quality…lovely cover

Fits the van nice looks good quality material glad I went for a cover made for the van.

Great product fits well easy to put on…

Great product fits well easy to put on and remove does what it says in the tin worth the purchase

Really great caravan cover

With this being a universal cover I didn't expect to much but I admit to being pleased with the quality of the cover and once it was fitted and adjusted properly it looked great and does the job it was made for. My one adjustment that I would make to the cover is to the lights supplied with it, I would prefer them to be fitted to the cover and not so cheap looking. A small niggle but maybe that's just me. 5 stars for the cover though.

Helped to Put My Bentley To Bed fantastic company to deal with.

Hi, I purchased a car cover for my Bentley Flying Spur, this was a custom made cover in the colours of my choice, the sales rep was very helpfull and explained all options with me and when I advised I was in a hurry she placed this as a special order on a fast track service and it was delivered 1 day ahead of schedual. All in All great people to deal with excellent product and very reasonable priced.

Caravan towing cover is quick to fit and it fits well.

I was pleased with the quality and impressed with the ease in which I was able to fit it to my caravan. This was the first time in fitting it and was so straight forward , even on my own. I towed on the motorway and wondered if there is a drag effect at motorway speeds. It is a brand new caravan and after the first trip I noticed grey discolouring on the front of my caravan when the tow cover was removed. Trying to see if it would come off rubbing with my finger, it didn''t come off. I use a slightly damp soft cloth in an isolated area and it came off with some effort. I will contact Specialised Covers to seek their advice before I attempt to clear all the affected areas.

Unrivalled service to accopmany premium products

Nothing else I can add to title; would not go elsewhere

Superb service

Superb service. 2nd cover I have had from Specialised. Great tailored fit, protects the car and also the paintwork with fleece lining and even better I can charge the car with cover on as they fitted charge port flaps

Excellent caravan towing cover. Easy to fit and take off

Delivery was overdue by a few days and I spoke to staff as I was going away and didn't want delivery whilst away. Excellent service from staff on the phone and the cover arrived in two days. All in all very happy with both the product and the service.

Repair following motorway debris damage…

The repair following damage from debris hitting the cover whilst driving down the M5 was carried out efficiently and effectively. The towing cover was returned as good as new.

Arrived earlier than they estimated

Arrived earlier than they estimated, it fits perfect. A+++++

great service and the covers are…

great service and the covers are excellent quality.