British Made Tailored Covers
Car covers designed to protect and preserve your vehicle inside and out
Towing protection for your caravan
Fully tailored towing covers to protect the front of your caravan during transit.
Car Covers
From £199
Protect your vehicle. Whether it's stored inside or out, your car is safer with a customised car cover. Bespoke and distinctive designs guarantee a perfect fit and our unique material formulations guarantee the highest quality protection each and every time.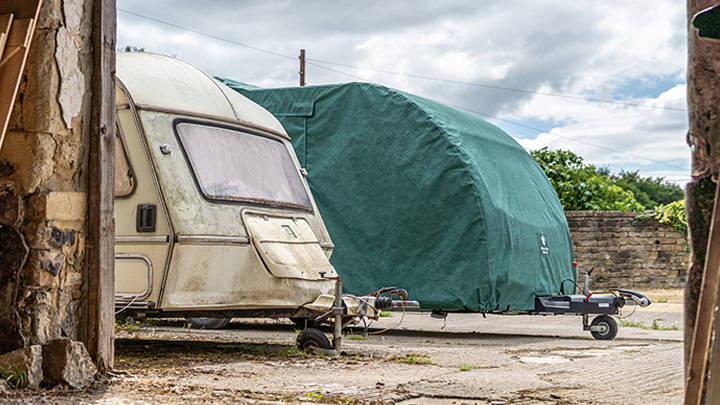 Caravan Covers
From £399
Protect your caravan when it's in storage, or simply when you're not out and about in it, with one of our tailored covers.
As official suppliers to the Swift Group, Coachman, Lunar, Elddis and Bailey, we're the only caravan protection brand to be recommended by the industry's market leading caravan manufacturers. All our covers are waterproof, fully breathable and made to measure your make and model of caravan.
Bike Covers
From £99
Our motorbike covers offer a host of benefits. Bespoke designs guarantee a superior fit and unique material formulations offer the highest quality and protection.
Designed and manufactured in our Yorkshire factory, our bike covers are made to measure, protecting your ride from the elements if you keep it on the drive, or accidental damage and general wear if stored in a garage.
Accessories
From £20
Whether you're looking for protection for your mountain bike, A-frame covers or a boot bag to keep your car or hallway clear of mud, we design and manufacture a range of covers and accessories.
We have a standard range of covers online but tailored options are also available, simply contact our team who can supply a tailored quote to fulfil you specific protection needs.
Bespoke Covers
From products designed to protect new vehicles during the production process, to driving covers and showroom reveal covers, Specialised Covers considers the complete journey that a vehicle goes through, and so all our products are tailored to your requirements.
We can also produce covers from 3D Models allow us to work very closely to the finished vehicles but not requiring the design team to physically visit the site. This allows us to speed up the sampling process and create accurate covers the first time.
Call our team to discuss on 01943 864646
Exceptional Service
Tow Pro cover

Very good product, easily fitted and removed. Only criticism is it doesn't fully cover the front, leaving the upper area of the central front window exposed.

Great fitting cover and great service,

The customer service was excellent, a very pleasant company to do business with, first class product and first class service.

Towpro Caravan towing cover

Ordered on line and was advised normal delivery four weeks, but would probably be a little longer in Spring due to high demand pre-season. It duly arrived at six weeks, on the day advised to me by email. Tried it out twice now. Easy to fit and remove and seems to do the job perfectly. Will be giving it a full test soon, as off on a tour of Denmark, Faroe islands and Iceland ( including gravel roads!)

Specialised elite cover

Purchased Specialised elite towing covered, delivered has quoted, fits great. Lots of interest from other caravan users on site.

Tow Pro +

Excellent fit and delivered within a week of ordering. Easy to fit, fold and store between trips

Quality product

A product worth waiting for. Shame they can't speed up the production.

Excellent product

Excellent communication, Very helpful staff and great quality product.

I have tried cheaper covers in the pas…

I have tried cheaper covers in the pas and they simply do not do the job. The new cover is excellent and well worth the money.

Excellent customer service throughout…

Excellent customer service throughout and great product as well simple to put on and off and look great too.

Best buy ever

So quick and easy to fit onto the Caravan perfect fit. If I ever need another one for a different caravan I will not be looking anywhere else This product is exactly what the manufacturer says it is. I have already praised this product to other caravan owners. Ten out of ten for service quality and fit

Quality Product

I purchased a "Stormshield" plus outdoor cover which arrived last week. It fits well and is made of quality material with a soft finish on the inside to protect the paintwork. The underbody fasteners are easy to secure with the clips being inside a designated pocket. There is a velcro opening for the car's fixed aerial. My previous (2001) purchase from "Specialised" was an indoor dust cover which, with careful use, is still absolutely fine even though it is 15 years old.

fantastic product!

top quality product, fits perfectly (although it took a lot of heaving & grunting! will improve with practice!), stood out like a king on our storage site when compared to all the others.

They are very helpful and advise you …excellent service

They are very helpful and advise you well on the product

Excellent

Excellent service, excellent product

Sent my cover zbailey Caravan front cover repair.

Sent my cover back to the company for repair , under warranty . Their service, professionalism and communication was second to none, with the item being returned within the timescale quoted. I was kept informed as to progress throughout its repair. Well done a company whom were a pleasure to deal with.

Excellent product

Excellent product at a fair price, great fit but takes a month from placing order to delivery, although it is made to measure.