Harley Davidson
Bike Covers
Choose from a wide range of customisable tailored indoor & outdoor semi-tailored bike covers - carefully designed to protect your ride from accidental damage and general wear.
Harley Davidson Bike Covers
Pedigree bikes deserve the best protection you can lay your hands on. Here at Specialised Covers, we offer a range of tailor-made bike covers to suit the Harley enthusiast, irrespective of whether your bike is kept in a garage, or out on the street.
Our indoor covers are soft, breathable and tailor-made to ensure that they perfectly accentuate the profile of your favourite ride, offering protection from light knocks, spills or scratches.
Our outdoor covers are a different beast entirely; offering a more modest half-fit, they're weatherproof, breathable, double-stitched and fleece-lined to provide long lasting protection from the elements. They're also made with security in mind, and boast metal eyelets designed to let you secure your Harley using the cover.
Each and every one of our Harley Davidson bike covers is made to order, right here in our Yorkshire factory. To order a cover for your bike, select the most relevant option from the list below, and give us some more details about the exact model, year and trim: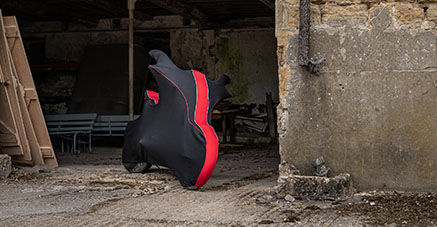 Indoor Motorbike Covers
Starting from £129
Your bike is your pride and joy and a little extra TLC will go a long way. Our tailored indoor motorbike covers fit perfectly around your motorbikes curves giving it protection from knocks and scrapes, preserving your ride for years to come. Available in a wide variety of colours and styles you can customise you cover creating unique protection.
Indoor Motorbike Covers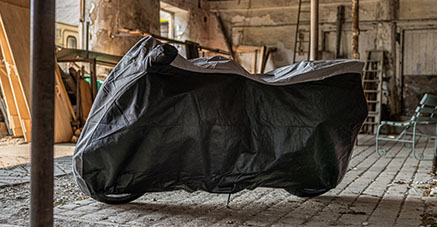 Outdoor Motorbike Covers
Starting from £129
Our outdoor covers are tailored to your make and model of motorcycle and come in 4 colours. Offering a long term outdoor storage solution theses cover are made from our heavy duty material which is both waterproof and breathable.
Outdoor Motorbike Covers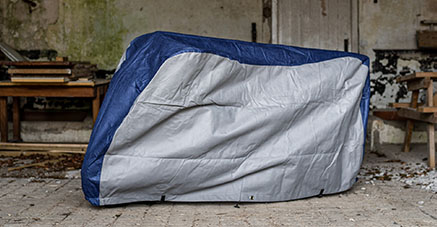 Universal Motorbike covers
Starting from £89
Our stormshield Lite bike cover is our Universal outdoor storage cover. Available in 4 colours , blue, black, green and grey. Please select the colour and size your require from the drop downs .
Universal Motorbike Covers