British Made Tailored Covers
Car covers designed to protect and preserve your vehicle inside and out
Towing protection for your caravan
Fully tailored towing covers to protect the front of your caravan during transit.
Car Covers
From £199
Protect your vehicle. Whether it's stored inside or out, your car is safer with a customised car cover. Bespoke and distinctive designs guarantee a perfect fit and our unique material formulations guarantee the highest quality protection each and every time.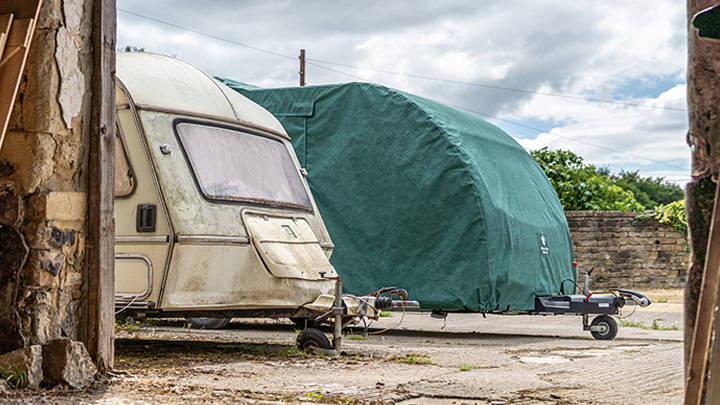 Caravan Covers
From £399
Protect your caravan when it's in storage, or simply when you're not out and about in it, with one of our tailored covers.
As official suppliers to the Swift Group, Coachman, Lunar, Elddis and Bailey, we're the only caravan protection brand to be recommended by the industry's market leading caravan manufacturers. All our covers are waterproof, fully breathable and made to measure your make and model of caravan.
Bike Covers
From £99
Our motorbike covers offer a host of benefits. Bespoke designs guarantee a superior fit and unique material formulations offer the highest quality and protection.
Designed and manufactured in our Yorkshire factory, our bike covers are made to measure, protecting your ride from the elements if you keep it on the drive, or accidental damage and general wear if stored in a garage.
Accessories
From £20
Whether you're looking for protection for your mountain bike, A-frame covers or a boot bag to keep your car or hallway clear of mud, we design and manufacture a range of covers and accessories.
We have a standard range of covers online but tailored options are also available, simply contact our team who can supply a tailored quote to fulfil you specific protection needs.
Bespoke Covers
From products designed to protect new vehicles during the production process, to driving covers and showroom reveal covers, Specialised Covers considers the complete journey that a vehicle goes through, and so all our products are tailored to your requirements.
We can also produce covers from 3D Models allow us to work very closely to the finished vehicles but not requiring the design team to physicaly visit the site. This allows us to speed up the sampling process and create accuarte covers the first time.
Call our team to discuss on 01943 864646
Exceptional Service
Excellent service and great fit

Excellent service, kept up to date all the way through the building of the car cover and then delivered promptly when ready. Fits very well and looks better than expected. Would recommend.

Arrived earlier than they estimated

Arrived earlier than they estimated, it fits perfect. A+++++

Excellent service

Excellent service, good quality product, easy fitting and fit for purpose. I would recommend Specialised Covers to anyone.

SUPER FIT

the quality is superb as is the fit, we did struggle a bit trying to put the cover on but that was due to one person not 100% fit with a fractured rib but I did manage to pull the cover over the motorhome by standing on the roof. There was only one snag which I can overcome, the rack on the roof needs to be covered by something solid like a piece of ply to stop the cover from holding water when it rains due to the cover sagging in between the gaps of the roof rack.

Front protector and full cover bought at same time, front cover easy to put on and out performed one that I had from another manufacturer,full cover awkward to put on with one person but fitted well

As noted above, the full cover has been on for two weeks and we had high winds 60mph and had no problems. Damaged the cover putting it on, phoned Specialised and still waiting on a piece of grey fabric to do a self repair after 2 weeks Company responded immediately with no problems, no problem in recommending their product and service

RS6 cover

Excellent cover for RS6 - looks wonderful and also provides excellent protection - good fit

Always perfect

I have ordered 3 covers now, and every single time i have, the customer service is unbeatable and the covers are always perfect. I swear by my storm shield plus cover, trust me they work as my covers have been through several Cat. 3 Hurricanes with the car clean and dry underneath. If your looking to buy, you wont be disappointed.

Great buying & user experience

They keep you informed regularly, let you know when it's ready and being dispatched. The carrier delivers on time. The cover is easy to fit and remove (literally takes minutes, worked very well protecting the front of our caravan, overall a great experience.

Excellent product and service.

Excellent quality. Pricing competitive. Informed about manufacture every step of the way. Delivery as promised. Very pleased with the whole thing.

Exceptional

Exceptional customer service and great quality product.

Very good customer service

I supplied the wrong measurements and they put it right, without charge, very efficiently. This is the 3rd cover we've bought from them. Great quality. Great service.

Does what is says on the advert

I ordered a towing cover by phone and my queries were answered quickly and accurately which shows they know their stuff. It was not due for a few weeks and as we had ordered a new van which was due before the cover was ready was a bit of a worry. But two day before I was due to collect the van I had an email to say my cover was being made. A quick phone call later and my cover was arranged to be delivered the day before we collected the van. Excellent service. The fitting of the cover was very easy and can easily be done by one person but its quicker with two. Its of good quality and light in weight but not thickness. Now the next cover to order is a whole storage cover.

Efficient service from start to …

Efficient service from start to delivery Excellent good looking cover

First Class

The cover when it arrived was first class, the quality and fit was excellent, just as described on the website

Excellent communications and service

I was kept well informed when the items would be sent and delivered. They are well worth 6 out of 5!! Great service all round.

Well made and a very accurate fit!

Our 'van is not too common (Geist LV485) The sales team would not let me order the cover until they had made certain that the cover would fit. It does! Superb, polite, helpful service delivered an excellent cover in just a few weeks. Super strong material, cleverly lined so as not to damage the 'van, One very happy customer!