British Made Tailored Covers
Car covers designed to protect and preserve your vehicle inside and out
Towing protection for your caravan
Fully tailored towing covers to protect the front of your caravan during transit.
Car Covers
From £199
Protect your vehicle. Whether it's stored inside or out, your car is safer with a customised car cover. Bespoke and distinctive designs guarantee a perfect fit and our unique material formulations guarantee the highest quality protection each and every time.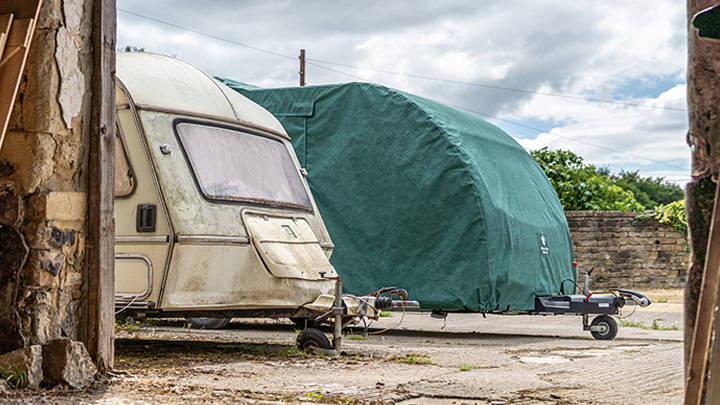 Caravan Covers
From £399
Protect your caravan when it's in storage, or simply when you're not out and about in it, with one of our tailored covers.
As official suppliers to the Swift Group, Coachman, Lunar, Elddis and Bailey, we're the only caravan protection brand to be recommended by the industry's market leading caravan manufacturers. All our covers are waterproof, fully breathable and made to measure your make and model of caravan.
Bike Covers
From £99
Our motorbike covers offer a host of benefits. Bespoke designs guarantee a superior fit and unique material formulations offer the highest quality and protection.
Designed and manufactured in our Yorkshire factory, our bike covers are made to measure, protecting your ride from the elements if you keep it on the drive, or accidental damage and general wear if stored in a garage.
Accessories
From £20
Whether you're looking for protection for your mountain bike, A-frame covers or a boot bag to keep your car or hallway clear of mud, we design and manufacture a range of covers and accessories.
We have a standard range of covers online but tailored options are also available, simply contact our team who can supply a tailored quote to fulfil you specific protection needs.
Bespoke Covers
From products designed to protect new vehicles during the production process, to driving covers and showroom reveal covers, Specialised Covers considers the complete journey that a vehicle goes through, and so all our products are tailored to your requirements.
We can also produce covers from 3D Models allow us to work very closely to the finished vehicles but not requiring the design team to physicaly visit the site. This allows us to speed up the sampling process and create accuarte covers the first time.
Call our team to discuss on 01943 864646
Exceptional Service
We ordered at the nec and was told it…

We ordered at the nec and was told it would be with us before we went away as we had also ordered a towing cover.it did arrive but only after we chased it up.Also had to keep sending measurements.

Fits like a glove

Fits like a glove! Really well made and delivered on schedule as outlined at the start.

Great after sales service

We ordered our cover on the recommendation of our caravan dealership. When we received it we could not fit as only one awning rail was open on the caravan. I spoke to Specialised Covers and explained, They were brilliant advised exactly what we should do (as we re new to caravans) and added that if we were not 100% satisfied there would be no problem at all obtaining a full refund. We followed their advice our dealership opened the rail, and the cover fits beautifully. Great quality. Thank you and we will be recommending your services.

First class high quality car cover at…

First class high quality car cover at reasonable price

Used this company for the past 15…

Used this company for the past 15 years. Always great service and the covers are great to keep my 1950's Rolls Royce's clean and dry.

A fantastic service from start to…

A fantastic service from start to finish. Constantly updating us on the progress of our order. I would definitely recommend using them if you want a cover.

Well made product

Well made product, I was updated at every stage of manufactur

Great customer communication

Great customer communication, and delivery, got a tow pro cover, good towing cover easy to fit on my own, only 5 min

Caravan towing cover.

This is a great product, easy to put on and a perfect fit. Very pleased with it. Service was great and they were very helpful

A cover of all covers

Truly a perfect cover everything was in the right place exactly as it should of been if I had a comment to make n the constructive side it would be to do something better for the protection of the gutter ends.

Good front cover and fits very well

Good front cover and fits very well The only minus is it took about five weeks to arrive

Doe the job well but needs a lot of effort in putting it on and off.

Well made and a fairly good fit , just a bit tight getting over the large wing mirrors on my Golf SV and a bit lumpy around the seams on the windscreen. Better quality fabric than others that I got samples for, hope it will provide better UV protection and breathability. Arrived in the time stated and it was an easy transaction. Hopefully it will prove to be a better investment than some of the cheaper alternatives.

Amazing service and wonderful product …

Amazing service and wonderful product custom made just how I wanted it.

Porsche 912 cover

Excellent product , my third purchase from this company. They even managed a very late change ( wing mirror position) and delivered before Christmas as it was a present. I very highly recommend

New Front Cover?

We thank you for the new front cover that we bought from you! It came on time, so that was very good! Its a great product, light easy to put on, maybe a bit tight but apart from that excellent?

Brilliant product very good service by the sellers arrived in good time

I am very pleases with this product fits the caravan very well looks good & provides excellent protection from any road chips I can leave the cover in situ when caravan is sited as long as not using a full awning When cover remains in stu can lower from front window & still access the front (gas) storage box Would certinly recommend to anyone with a touring caravan Very pleased Brilliant!!!