British Made Tailored Covers
Car covers designed to protect and preserve your vehicle inside and out
Towing protection for your caravan
Fully tailored towing covers to protect the front of your caravan during transit.
Car Covers
From £199
Protect your vehicle. Whether it's stored inside or out, your car is safer with a customised car cover. Bespoke and distinctive designs guarantee a perfect fit and our unique material formulations guarantee the highest quality protection each and every time.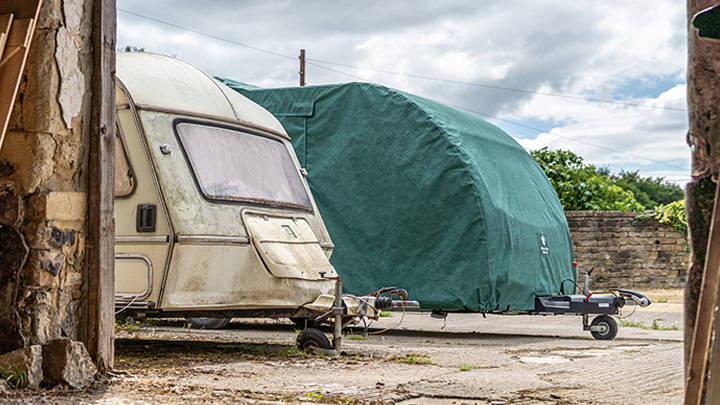 Caravan Covers
From £399
Protect your caravan when it's in storage, or simply when you're not out and about in it, with one of our tailored covers.
As official suppliers to the Swift Group, Coachman, Lunar, Elddis and Bailey, we're the only caravan protection brand to be recommended by the industry's market leading caravan manufacturers. All our covers are waterproof, fully breathable and made to measure your make and model of caravan.
Bike Covers
From £99
Our motorbike covers offer a host of benefits. Bespoke designs guarantee a superior fit and unique material formulations offer the highest quality and protection.
Designed and manufactured in our Yorkshire factory, our bike covers are made to measure, protecting your ride from the elements if you keep it on the drive, or accidental damage and general wear if stored in a garage.
Accessories
From £20
Whether you're looking for protection for your mountain bike, A-frame covers or a boot bag to keep your car or hallway clear of mud, we design and manufacture a range of covers and accessories.
We have a standard range of covers online but tailored options are also available, simply contact our team who can supply a tailored quote to fulfil you specific protection needs.
Bespoke Covers
From products designed to protect new vehicles during the production process, to driving covers and showroom reveal covers, Specialised Covers considers the complete journey that a vehicle goes through, and so all our products are tailored to your requirements.
We can also produce covers from 3D Models allow us to work very closely to the finished vehicles but not requiring the design team to physically visit the site. This allows us to speed up the sampling process and create accurate covers the first time.
Call our team to discuss on 01943 864646
Exceptional Service
good cover

i have a tow pro + front cover and A frame cover the service was very good the cover is a very good easy to fit cover and it looks good when fitted however at £199 i was surprised to then be asked to pay a further £30 for a zip considering the cost above a standard cover although i must say they be supply a storage bag . the A frame cover is not so good it is a little to short and the holding straps are in the wrong place

Excellent product and service

I recently purchased an outdoor cover for my Porsche 944. The lady I initially spoke to was very friendly and helpful, she gave me sound advice as to which cover I needed. The cover arrived within the stated timescale, and the quality and fit is excellent. The price is perhaps a little on the high side, but in the end I think it's a good example of "you get what you pay for". So I am happy to recommend the company and its products.

A great product from a company that keeps it's promises.

Very pleased with how easily the cover fitted my caravan and delivery timetable exceeded.

Got something to cover order a Specialised Cover

Arrive in perfect condition. Very good quality and fits my caravan perfect. Couldn't believe how easy my son and brother in law put the cover over the caravan with the help of the poles. Would recommend Specialised Covers to my friends.

Well worth the money!!

An absolutely first class service with a first class product. Well worth the money. Well done guys!!

Excellent service and product

All round good experience, product is excellent and service matched product! Will use again when need a new cover.

Great quality.

Great quality, fits well, does what they say. Protects the caravan.

Tow Pro + Caravan Cover

There are many much cheaper covers on the market that probably do a very good job of protecting and keeping the front of the caravan clean. We invested in a Tow Pro + for our Swift Elegance 480, and can recommend Specialised Covers without hesitation - the number of times the ease of access to the front locker has been important in just one month of ownership shows these covers are worth the money. The quality of the product is excellent, the appearance is so smart, and customer service during the ordering and manufacturing process was first-class. We are - to put it mildly - extremely happy with our caravan cover.

Simple and effective

Bought the pro version, used it twice recently and given the amount of muck on the cover its doing one of its jobs really well. My van is kept in storage and so not always convenient to clean before it's put away, I don't have to worry about that anymore.

Pleased with purchase and value for money.

Cover a very good fit,although door opening could do with being slightly higher as the caravan door catches when opening/closing .It was easy to put on. I previously purchased a competitor's cover with the easy fit system and after three attempts they could not get it right and their customer service was appalling. I found Specialised covers pleasant, helpful and kept to delivery promise. Cover was cheaper than what had previously purchased but there was no loss of quality. Would recommend.

Brilliantly made....buying British paid off.

The cover is well made and fits my Ducati nicely, despite the best efforts of mother nature over the last few weeks the cover has coped well. It is great to be able to secure it under the bike with clips and using a padlock through the eyelet for extra security. Very pleased money well spent to protect and secure my Bike. Thanks

very professional

What can I say the wrong cover came for my car.All because of one letter 450slc my car was 450sl.They had the cover picked up and replaced in a week. At no cost to me. great service.the cover itself fits like a glove.

Superb Product: a very happy customer!

I did a lot of homework before selecting Specialised Covers to produce the cover for my new AMG A45. The team at Specialised answered the various questions I had before ordering and made specific recommendations to me based on the hot climatic conditions we experience here in Dubai. I was also very impressed by the continuous update that I received as my custom cover was being manufactured and then shipped. On receiving the cover, I was extremely happy with the quality of the material and overall finish...and the cover fits the AMG perfectly, even accommodating the AMG 'aero kit' that comes with my car. I thoroughly recommend Specialised Covers to any car enthusiast looking to protect their precious vehicle!

Towing Cover Elddis Crusader Aurora

Used the cover for the first time today. It was easy to fit and does the job perfectly. Well made cover. Can heartily recommend.

Cover for a Coachman Arcadia…

This cover is for a Coachman Arcadia caravan. The cover comes with 2 poles to help slide the cover over the caravan. Unfortunately there was an issue with how the pole pockets in the cover were sown and the cover had to go back for rectification. The problem was sorted in a couple of weeks. The cover is now in place and fits perfectly. The material appears strong if a little stiffer than we were expecting. Plenty of straps are provided to hold the cover in place even in the strong winds we have had recently. Other strips are provided to prevent the cover snagging on the awning rails, not needed for our caravan but could be useful for others. One extra we asked for was a vent for the fridge so we could use this even with the cover on. We use the fridge throughout the year as extra storage which saves going to the shops too often. This was provided exactly in the correct place and at a reasonable price. It would have been useful to have extra Velcro strips to hold the door cover in place when open, we have purchased some self adhesive Velcro for this purpose. Not the cheapest cover on the market but well worth the expenditure.

A well made cover and does a good job of protecting my caravan

A well made cover that has zips to access the front window and front locker, we fit the cover the night before departure and zip rather access panel down to give light into the caravan. The cover is robust with strong zips and securing straps, transparent panels to cover the running lights. Some may say that they are expensive but it stops stone chip damage to the front panel and front windows goodness knows how much either of these will cost to replace but it's a fair bet that it would be more than the cover. Fitting is best done with two people until you get used to it then I managed by myself. Good quality product and first rate service, kept up to date with all parts of the manufacturing process. Well done