British Made Tailored Covers
Car covers designed to protect and preserve your vehicle inside and out
Towing protection for your caravan
Fully tailored towing covers to protect the front of your caravan during transit.
Car Covers
From £199
Protect your vehicle. Whether it's stored inside or out, your car is safer with a customised car cover. Bespoke and distinctive designs guarantee a perfect fit and our unique material formulations guarantee the highest quality protection each and every time.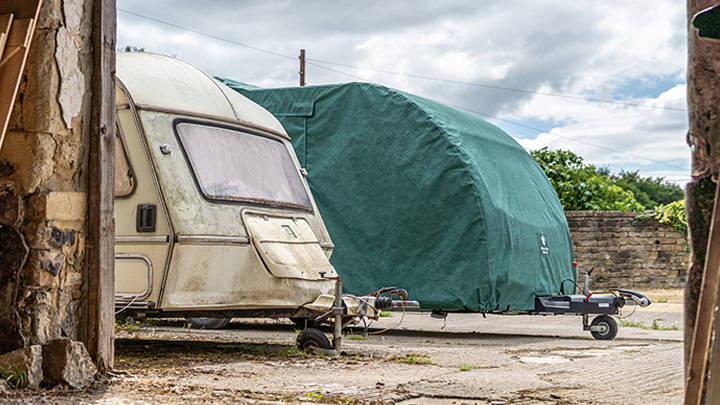 Caravan Covers
From £399
Protect your caravan when it's in storage, or simply when you're not out and about in it, with one of our tailored covers.
As official suppliers to the Swift Group, Coachman, Lunar, Elddis and Bailey, we're the only caravan protection brand to be recommended by the industry's market leading caravan manufacturers. All our covers are waterproof, fully breathable and made to measure your make and model of caravan.
Bike Covers
From £99
Our motorbike covers offer a host of benefits. Bespoke designs guarantee a superior fit and unique material formulations offer the highest quality and protection.
Designed and manufactured in our Yorkshire factory, our bike covers are made to measure, protecting your ride from the elements if you keep it on the drive, or accidental damage and general wear if stored in a garage.
Accessories
From £20
Whether you're looking for protection for your mountain bike, A-frame covers or a boot bag to keep your car or hallway clear of mud, we design and manufacture a range of covers and accessories.
We have a standard range of covers online but tailored options are also available, simply contact our team who can supply a tailored quote to fulfil you specific protection needs.
Bespoke Covers
From products designed to protect new vehicles during the production process, to driving covers and showroom reveal covers, Specialised Covers considers the complete journey that a vehicle goes through, and so all our products are tailored to your requirements.
We can also produce covers from 3D Models allow us to work very closely to the finished vehicles but not requiring the design team to physicaly visit the site. This allows us to speed up the sampling process and create accuarte covers the first time.
Call our team to discuss on 01943 864646
Exceptional Service
Order progress

Same as last time when we purchased your products, your systems keep us up to date with the orders progress. Excellent.

Excellent product that has been…

Excellent product that has been perfectly tailored for our caravan. It is easy to fit and remove and is made of quality material that protects the front of my van whilst it is being towed, would recommend to anyone requiring one of thses covers

5* product and service

Excellent service even through Lockdown Kept in touch all throughout the process Excellent product Fit perfectly

Replacement cover.

After over 28,000 miles our cover was showing it's age so ordered a new one. Arrived on time, fits superbly and I like the zips that allow the top to be folded down.

Exactly as I wanted it

Ordered a cover for my supercar from Specialised Covers on recommendation of a friend. I 'm 100% happy. Very easy to order and delivered much earlier than expected. The only difficult part is that you are not able to "feel" the fabric through your computer when ordering. So not sure what to expect. But the standard indoor product is a beautiful fabric. The result is a perfect snug fit.

You know it's a good product when there is a waiting list!

When I finally decided to order our TowPro Elite caravan towing cover the waiting list was up to something like 12 weeks. I think it came about a week early and was better than I expected. Can't wait to use it on our first outing next year.

it was much more difficult to fit the…

it was much more difficult to fit the first time than we had expected. Especially as my wife is quite short!

Best of British

Fast, efficient, friendly service... and the end product fits my new 911 like a glove. Cover takes minutes to put on/take off, sits lightly on the bodywork and really does keep the car sparkling come rain or shine. Quite obviously the team at Specialised know their business... roll on the best of British industry!

Towpro + caravan cover 18 months old…

Towpro + caravan cover 18 months old ,started to flap at the top very noisy on M way. Spoke to SC and without question they arranged collection and return to factory. They tested it , altered fit and returned to to me with no cost within 10 days . Brilliant service staff very helpful even though very busy. Would recommend this excellent company .

Great product and great service.

Great product and great service.

Quality

Good communication - excellent product. Very satisfied

Exceptional product

Delivered when promised. Informed when delivery was due. The cover was well made and fitted perfectly. Overall a very good experience.

Car cover for SLK Mercedes.

Order completed before due date and received safely by courier. Cover is exactly as ordered and fits perfectly. Recommended to a friend and he bought one also.

Excellent product and service

Towing cover arrived promptly, looks great and fits perfectly.

excellent product

This is the third cover I have bought. The first two were very fitted to the car ( Mercedes 240) the third is more loose, nearly touching the ground but maybe this allows more air around & under the cover. Outdoors in all weathers all year round the life of a cover is three years +. The soft inner lining fabric protects the car paint finish very well .

First Class service,good fit /finish/quality.

So easy to use,requirements meet first time, delivered on time will be using out in the rain soon let you know if not satisfactory!.