British Made Tailored Covers
Car covers designed to protect and preserve your vehicle inside and out
Towing protection for your caravan
Fully tailored towing covers to protect the front of your caravan during transit.
Car Covers
From £199
Protect your vehicle. Whether it's stored inside or out, your car is safer with a customised car cover. Bespoke and distinctive designs guarantee a perfect fit and our unique material formulations guarantee the highest quality protection each and every time.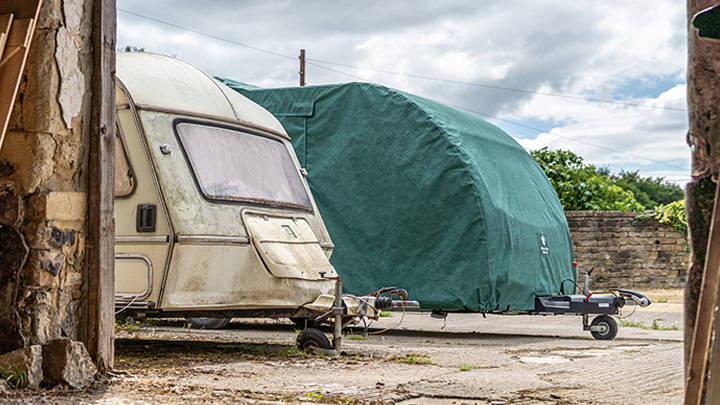 Caravan Covers
From £399
Protect your caravan when it's in storage, or simply when you're not out and about in it, with one of our tailored covers.
As official suppliers to the Swift Group, Coachman, Lunar, Elddis and Bailey, we're the only caravan protection brand to be recommended by the industry's market leading caravan manufacturers. All our covers are waterproof, fully breathable and made to measure your make and model of caravan.
Bike Covers
From £99
Our motorbike covers offer a host of benefits. Bespoke designs guarantee a superior fit and unique material formulations offer the highest quality and protection.
Designed and manufactured in our Yorkshire factory, our bike covers are made to measure, protecting your ride from the elements if you keep it on the drive, or accidental damage and general wear if stored in a garage.
Accessories
From £20
Whether you're looking for protection for your mountain bike, A-frame covers or a boot bag to keep your car or hallway clear of mud, we design and manufacture a range of covers and accessories.
We have a standard range of covers online but tailored options are also available, simply contact our team who can supply a tailored quote to fulfil you specific protection needs.
Bespoke Covers
From products designed to protect new vehicles during the production process, to driving covers and showroom reveal covers, Specialised Covers considers the complete journey that a vehicle goes through, and so all our products are tailored to your requirements.
We can also produce covers from 3D Models allow us to work very closely to the finished vehicles but not requiring the design team to physically visit the site. This allows us to speed up the sampling process and create accurate covers the first time.
Call our team to discuss on 01943 864646
Exceptional Service
I wouldn't buy any other covers for my…

I wouldn't buy any other covers for my caravan excellent service and covers really well made and so easy to use and put on

Easy to order, efficient and great quality

The above says it all really!

Top Rate product and very good customer …

Top Rate product and very good customer service

Easy to use, even when wet.

The cover is made to measure and slips into position on my Triumph Bonny with ease each evening and with equal ease off the machine, even when wet, in the morning. Also the cover is simple to tether in position to prevent wind blowing it away. Under the cover the bike remains dry, though it has air circulating from underneath to help remove moisture from a wet machine.

Excellent

Excellent customer service especially from Laura steel couldn't be more helpful it's nice to see someone like me how is so customer focused and loves here job recommended to all my caravan friends

Fantastic cover well worth the money…

Fantastic cover well worth the money and so easy to put on and off. Offers great protection for the caravan whilst towing.

All I asked for!

I found the whole process of ordering the cover very easy, the staff were very helpful and patient. A pleasant experience

very professional

What can I say the wrong cover came for my car.All because of one letter 450slc my car was 450sl.They had the cover picked up and replaced in a week. At no cost to me. great service.the cover itself fits like a glove.

Triumph cover

Ordered a cover from Specialised Covers for my classic Trident. Beautifully tailored and looks fantastic. Logo is done well at the front. The cover was slightly tight when first fitted but it seems just right after a few days in place. Recommended!

Spot on with delivery timing and fit of cover

Cover is very good. Slight struggle to get it over caravan, essential to open door aperture and avoid windy conditions. The 2 sticks for fitting could be a bit longer and a bit stronger ideally.

Caravan front cover

Another excellent product that is very high quality, good service from supplier.

Outstanding product

Exceeded expectations

Perfect

Fits perfectly - good to put on very well satisfied

A GOOD COVER UP

Hi, Bought this cover for our Luner Quaser 544, and was surprised at the quality. other people we know who have winter covers have said the quality of ours is far greater. A good cover and pleased we used Specialised covers. would not hesitate in recommending. Thank you

Cover for f-type r

Cover fitted perfectly and the quality was amazing

Quality product. Great service.

I'm really pleased with the quality of the cover and the overall experience of dealing with Specialised Covers. I particularly liked the slick email updates explaining where my order was (cutting room floor etc). This was a nice touch that kept me informed of progress. I wasn't expecting that level of service. To me, it shows they don't just focus on their product but on the other aspects of their service, too.